I have talked to and learned from so many couples that I have to share this outrageous thought and I need you to seriously consider it. Your marriage takes precedence over your own needs and desires.
It sounds strange but if you truly want to make your marriage work, you have to be willing to sacrifice, even your own feelings and desires for the betterment of your marriage. Your marriage has to take top priority over everything and everyone. I think it will help to give you an idea of what I am talking about.
Never tell your spouse that you can go where you want, be friends with who you want and they have nothing to say about it. This attitude of selfishness and pride goes directly against the one flesh that our marriage is intended to reflect. This is clearly going to cause a ripple effect in the marriage. It goes against trust and respect and mutual submission.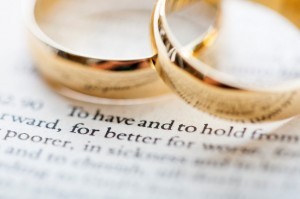 Also, never deliberately do something to harm or hurt your spouse, this may sound obvious to you right now, but I have seen loving couples resort to tactics like "you got me now I get you back." This is going against loving and supporting your spouse even when they are wrong.
Lastly, and this is one that comes directly from the Bible, do not punish your spouse by refusing to be intimate (kissing or more) because you did not get your way or you are waiting for them to behave a certain way or perform a specific task.
The summary of this is that you BOTH need to work together on the marriage because the BOTH of you are in the marriage and have pledged to love and respect each other until death, it is a lifetime commitment. You should not put parameters on the love and on the acceptance that you share with each other, it needs to be unconditional. Trust and mutual respect will be grown out of the expression of selflessness.
A few cautions I want to say here: Is there the possibility of you getting stepped on? Yes. But your intentions are to mimic the love of Christ as you are loving your spouse. Which means, just as we tread on the sacrifice of Christ, your spouse may also tread on your submissiveness. The hope and intention is, as you submit lovingly to your spouse then they will in turn respond with the same love. Is it going to be difficult? Yes. But God will give you the strength to love as He loves. It will not come automatically and you will have problems sometimes, but giving in to each other under mutual submission will help in the long run to enhance the intimacy and love in your marriage.
Another huge caution is physical abuse. In this article, I am really referring to a well meaning relationship where the two of you are having some difficulties and are not experiencing unhealthy fights or demands. I am in no ways telling you to stand by and take or give in to physical, emotional, mental, abuse from your spouse. If your spouse has demands on you that are unrealistic and you are being made to be totally uncomfortable in that situation, you need to get help immediately. Do not put put your life or the life of your children in danger. If you aren't sure where to turn, you can contact me and I will see how I can point you to find help in your area. Alternatively you can contact your church pastor, woman's shelter, or even the police.