John 14:27 Peace I leave with you; my peace I give you. I do not give to you as the world gives. Do not let your hearts be troubled and do not be afraid.
We live in a world full of turmoil and discomfort. I believe I can say that we may have trouble, but imagine what was going on when these words and this promise was first spoken by Jesus.
They were in the middle of a revolution and were about to lose their leader to physical death. They may not have known that, but Jesus did. In spite of knowing all of the troubles that are coming ahead for His people, Jesus still makes that bold promise.
Take a moment and read the entire chapter fourteen of John and you will see that Jesus was preparing them for the onslaught that was to come, but instead of preparing them to fight, He was preparing them for peace.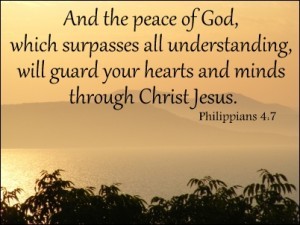 Jesus already showed them this peace in the boat going across the sea during a sudden storm; we read about this in Luke eight, Mark four, and Matthew eight. He actually challenged them at that time and said, in essence, "I showed you a miracles of healing the sick and blind and lame people can now see and walk, yet you still do not understand the power I have. Where is your faith? Where are you putting your trust?"
Peace is not about us being able to silence the fear in our own strength. This is where the Church often gets it wrong. We tell the story above as if your own strength is supposed to carry you through the storm. We often wrongly tell a person that is struggling, "It will be fine, just believe" or "if you only had more faith you would not be afraid". These are the wrong things to say and the wrong way of looking at it.
First of all, you are telling the person that there is a performance problem on their part. Either there is sin in their life blocking God's peace, or they lack the faith in God which is preventing them from having peace. Wrong, wrong, wrong, on all accounts. In Him we live and move and have our being. We need to stop looking internally for the strength God has already told you that you do not possess.
Jesus promises peace and to give it not like the world gives it. The world gives it with strings attached, "you do this for me and I will protect you" and "you perform a certain way and stay on my good side and you will have my love and peace". That is the world's way of giving peace, rooted in selfishness and the benefit of the protector.
Jesus' peace was rooted in selfLESSness and Him giving up Himself for us. It is by His wounds and suffering that we have peace. We could never earn it, or perform for it which is why it is not a gift from the world.
"My peace I give to you." It was peace that He knew you and I needed from the very foundation of the world. The peace that we needed, He knew the cost and knew that He was the payment. So it really is His peace to give and He gives it freely.
It is not peace for you to earn, you do not have to sign up for a program or read a specific book or join a specific church. You simply have to put your trust in the One who already bought that peace and already promised it to you. There are many peace Scriptures throughout the Bible, both Old and New Covenants. So the gift of peace to His people has always been on God's mind.
Jesus did not promise you will not have any problems. In fact He said we will be hated, we will always have trouble in this world. So while you are going through a struggle, try to get the focus off of the struggle and into the arms of the One Who promised peace. That peace was already earned on your behalf and it is part of the promises that come with the relationship we have to God through Jesus. Trust that God is walking this struggle with you and working the struggle through you. Bank on His promises, understanding that you will have pain and sorrow but you are not alone, He has gone before you and He has provided a way and a place for you.
-Matt
PS: If you are struggling, sometimes you need a physical person to talk to for assistance and encouragement. Do not take my words above as if you are supposed to have Jesus only and not talk to anyone else, absolutely not! We are to learn from and build up each other as we walk through this life. You can email or comment here and get some advice and we can pray with and for you. First, you have Jesus' promises of peace and second, you have your fellow Christians here to support and love you.